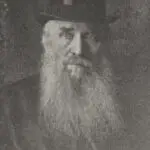 Rabbi Gavriel Ze'ev Wolf Margolis z"tl, 
Rav Velvel, as he was commonly known, was born in Vilna, Lithuania, on the 27th of Cheshvan 5608/1847.
In 1866 Reb Velvel married the daughter of HaRav Nachum Kaplan, the Rebbe of the Chofetz Chaim.         
(To view a letter written by the Chofetz Chaim on the inside cover of the first volume of a Mishnah Berurah to Reb Velvel click here )
Rav Velvel later became the Chief Rabbi of Grodno and held that position for close to 27 years.
In 1907 he accepted the position of Chief Rabbi of Boston, Massachusetts.
In July 1911, Our Board of Directors placed an ad in Der Morgan Journal (the Jewish Morning Journal) requesting a meeting of local Jewish leaders to discuss appointing a new Chief Rabbi of New York.
On August 13, 1911, Rav Velvel moved to New York City, accepting the position as our Morei D'asra/ spiritual leader. Rav Velvel held that position for the rest of his life. In addition, he was appointed as New York's Chief of the Rabbinic Courts, was the founder and President of the Assembly of Hebrew Orthodox Rabbis for 25 successive years, as well as a former President of the Central Council of Rabbis of Greater New York. Reb Velvel was the City's greatest Torah scholar of his time.
Reb Velvel was a prolific author of Jewish commentary. Among the many seforim/books that he wrote are: 
 Shem Olam, Toras Gavriel, Chruzei Margolios, Agudas Eizov and Ginzei Margolios on Esther, Shir Hashirim, Ruth, Koheles and Eichah.
Rav Velvel passed away on the 10th of Elul 5695 / September 8, 1935, just a few months before his 88th birthday. His funeral was attended by more than 10,000 people in front of our buildings, stretching a quarter mile down the streets of the Lower East Side, and he was buried on our organization's grounds in Montefiore Cemetery in Queens. 
For a more detailed biography of Reb Velvel, click here.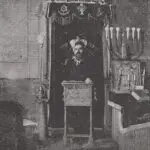 Rabbi Kalman Avraham Goldberg z"tl was born in 5655/1895 and was a devoted student of the Alter of Novarodok.
Rav Kalman married Ita Malka, the daughter of Rabbi Yaakov Nosson Handelsman z"tl, a Rav in Kiev, and Rav Kalman then became a Rav in the city of Vasikov, Russia.
In 1926 Rav Kalman accepted the position as a Rav in a Kehila in Jackson Heights, Queens, NY. However, he soon left that position as the Shul was heavily influenced by non-Orthodox Traditional Jewish values. He then moved his family to the Lower East Side of Manhattan.
In 1928 Rav Kalman was hired to be the assistant of Rav Velvel, who was becoming frail and became the Rosh (head) of our organization's Beit Din (Jewish Court)
In September 1935, soon after Rav Velvel's passing, Rav Kalman was appointed as our organization's Rabbi.
Rav Kalman was a contemporary of the leading prominent sages who arrived before and after the Holocaust. His classes, Torah research, opinions, and Beit Din (Jewish Court), were respected by the greatest Roshei Yeshivot in the country.
On the 27th of Tevet 5728, January 28, 1968,  Rav Kalman was niftar and is buried in Israel.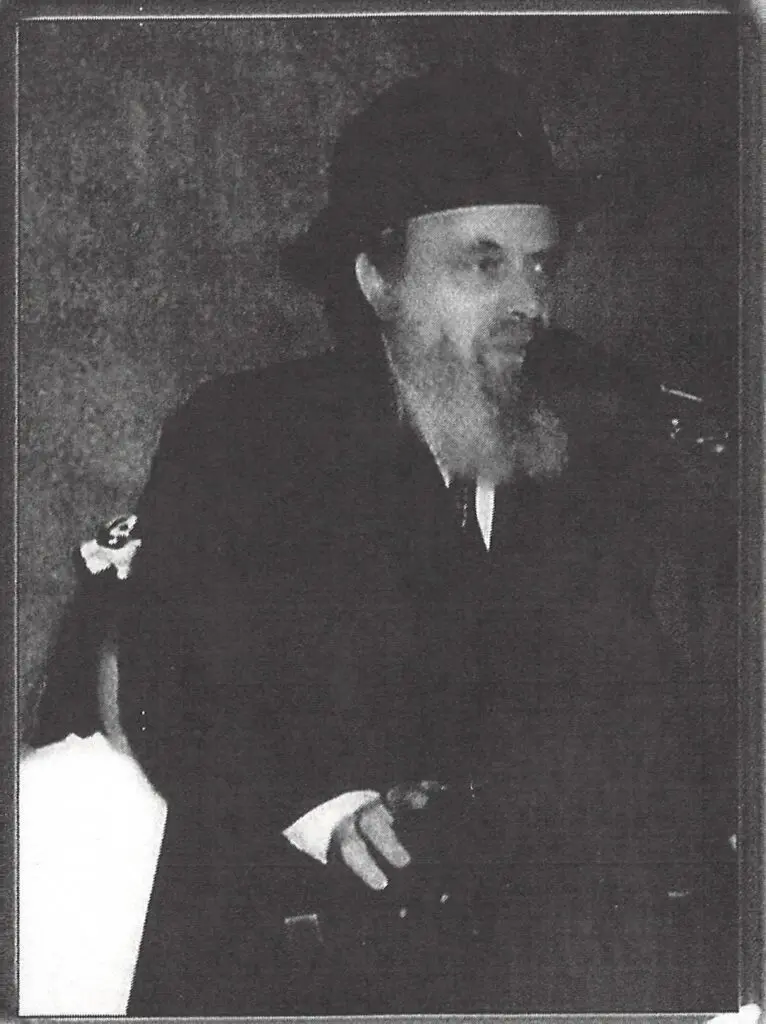 Rabbi Nochum Zvi Goldberg z"tl was born September 25, 1922, in Vasikov, Russia, and moved with his father Rav Kalman to Jackson Heights, Queens, NY, in 1928.
When Rav Nochum's family moved to the Lower East Side, he studied at the Rabbi Jacob Joseph Yeshiva and at Yeshiva Torah V'Das. It was there that he soon became a close student of Rabbi Shlomo Heiman, z"tl.
In 1943 Rav Nochum moved to Lakewood, NJ, to learn under the guidance of Rabbi Aharon Kotler z"tl and, in 1947, married Malka Cohen, daughter of Reb Yechiel Michel Cohen z"l.
In 1952 Rav Nochum and his family moved back to the Lower East Side. Soon after, Rav Nochum became both a Rebbe and Maggid Shiur at the Rabbi Jacob Joseph Elementary School and Mesivta High School.
In 1968 soon after his father was niftar, Rav Nochum was appointed our organization's Rabbi.
In 1973 Rav Nochum was appointed by Rav Henkin z"tl as the administrator of Ezras Torah, a charity that supported individuals who would spend their days and nights studying Torah. 
Rav Nochum was also the chaplain of Gouverneur Hospital on the Lower East Side and worked tirelessly on behalf of the Yeshiva Bais Hillel in Bnei Brak, Israel.
Rav Nochum was a contemporary of the recent Gedolei Hador and had a profound influence on the organization and other great mosdos.
On the 27th of Nisan 5766, April 22, 2006, Rav Nochum was niftar and is buried in Israel on the grounds of Ezras Torah in the Eretz Hachaim Cemetery.